Glass Bottom 96-Well and 384-Well Microplates
Data Sheet


Shop this product in our online store
Products - Microarray Substrates & Slides - Glass Bottom 96-Well and 384-Well Microplates for DNA Microarray, Protein Microarray and Whole Cell Microarray Applications
This section contains a wealth of information, related to
our website
and our
online store
. If you cannot find an answer to your question, make sure to
contact us
.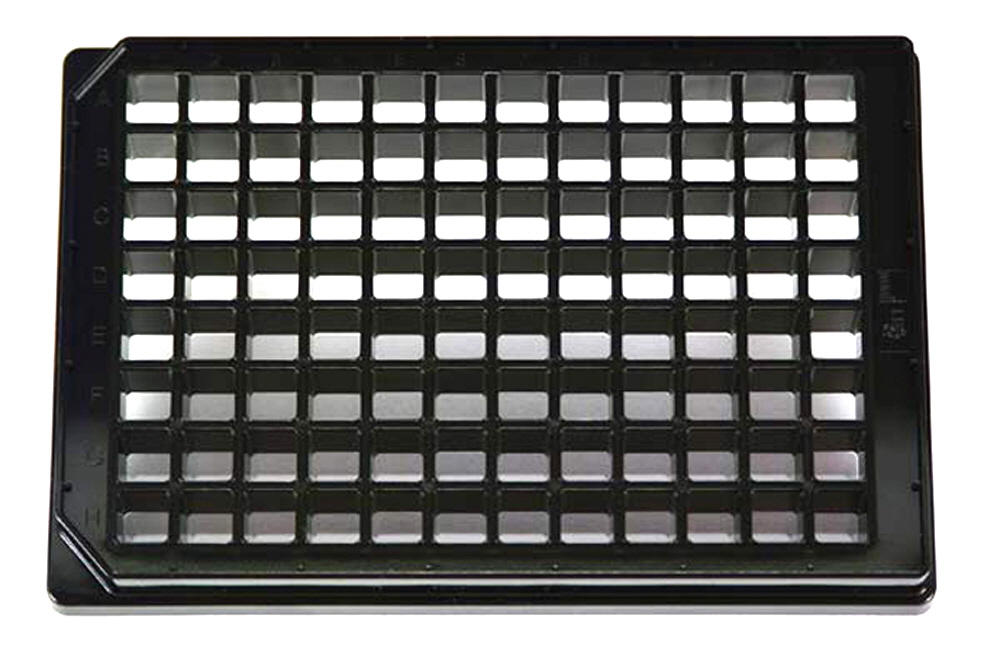 Arrayit offers the market's finest 96- and 384-well glass bottom plates activated with the most widely used microarray surface chemistries including amine and epoxy. Our glass bottom microplates support important life sciences, pharmaceutical and diagnostics applications including genotyping, serum diagnostics and compound library screening. Manufactured and packaged in class 1 cleanrooms for superior quality and performance.
Table of Contents
Product Descriptions
Technical Assistance
Ordering Information
Warranty
Product Description
Now the best microarray surface chemistries are available in a 96 well microarray format.  These 96 well microplates can be used with the NanoPrint, SpotBot and other microarray robots capable of spotting microarrays and macroarrays into the bottoms of 96 well plates.
96-Well Microplate Highlights
Glass has "cover slip" thickness to be compatible with all types of plate based detection instruments
High quality glass provides low background for superior signal to noise ratio
Smoothness and planarity guarantee accurate scanning and imaging cross the focal plane
Square well is ideal for microarray applications to maximize the number of spots in each well (columns and rows of spots)
Wells are square 7.2 x 7.2 mm
Well barriers defining the 96 individual wells are 1.8 mm thick
Well center-to-center spacing is 9.0 mm
Microplate thickness (height) is 15.0 mm
Low-base design ensures readability of all wells including outer wells
Product is protected by issued patents
Microplate dimensions of 127.8 x 85.6 x 15.0 mm conform to SBS standards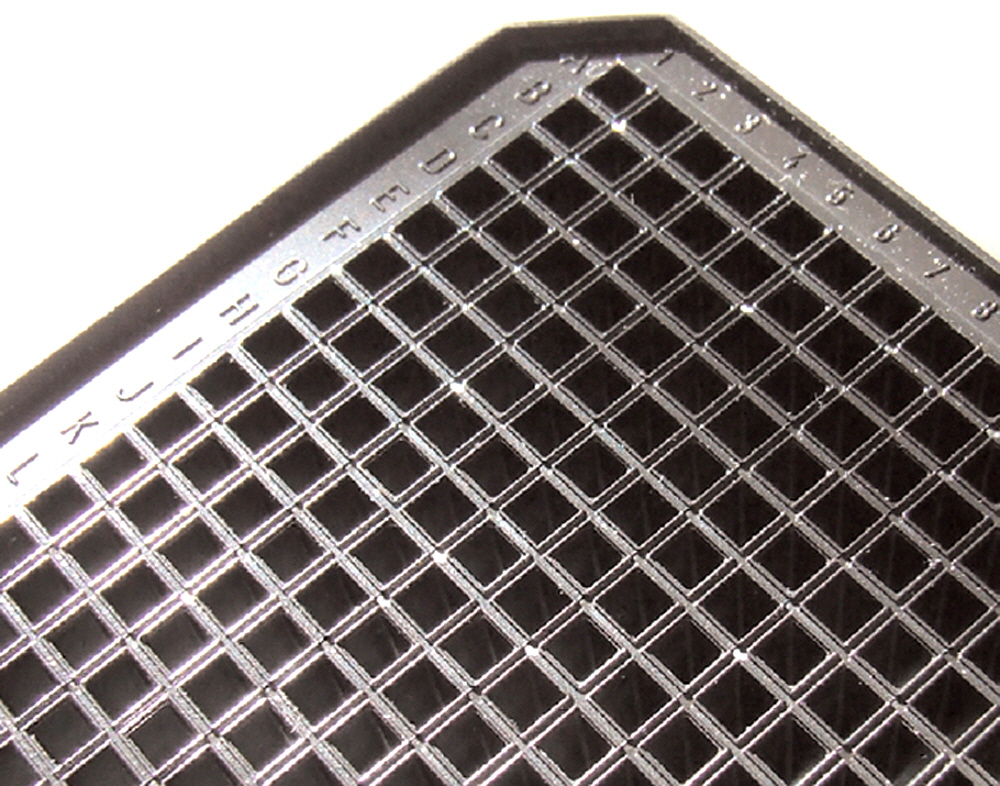 All of our surface chemistries set the standard for all microarray applications including multiplex ELISA assays, genotyping, gene expression, aCGH and others. Follow these links for more information on performance, protocols and applications of the world's more popular surface chemistries made by our experts. See the bottom page for pricing information.
This product can be delivered sterile and untreated.
SuperAmine chemistry is used to immobilized unmodified long oligos and cDNA's for gene expression microarrays.
SuperEpoxy chemistry is great for protein microarrays.  It is also an excellent surface to immobilize cells, tissues, and carbohydrates and other biomolecules.
SuperStreptavidin chemistry binds any biotinylated molecule
Custom chemistries available, please call for a quote.
Top