SpotBot® Titan
Data Sheet


Shop this product in our online store
>Products - Microarrayers - SpotBot® Titan High-Capacity DNA and Protein Edition Microarrayers
This section contains a wealth of information, related to
our website
and our
online store
. If you cannot find an answer to your question, make sure to
contact us
.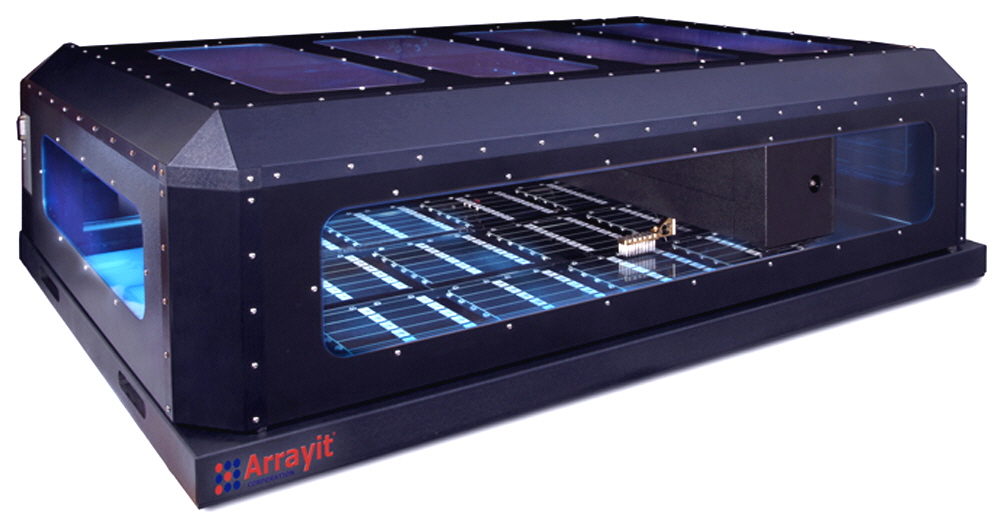 Arrayit SpotBot® Titan High-Capacity DNA and Protein Edition Microarrayers empower high-throughput microarray manufacturing with 48 microarray pins, professional printhead, 144 glass substrate slides, three 384-well microplates, megasonic pin cleaning with ambient and deck cooling for DNA and protein microaray manufacturing applications that builds on the 10-year SpotBot® microarrayer legacy. Titan Microarrayers are highly recommended for research laboratories and core facilities with high-throughput printing applications. Constructed from space-age alloys and utilizing Arrayit's patented contact printing technology, these systems offer high-speed and user-friendly microarray manufacturing at affordable prices.
SpotBot® Titan System Specifications and Features
SpotBot® Titan systems build on the 10-year SpotBot® Microarrayer legacy
High-capacity microarray manufacturing systems
Space-age high performance alloy compostion
Cool motor technology for reliable and economical operation
Postional repeatability of ±5 µm provides uniform spot spacing for easy quantification
High-speed manufacturing at an affordable price
Highly recommended for all ex situ microarray manufacturing applications
Manufacture oligonucleotide, cDNA, carbohydrate, antigen, antibody, peptide, and reverse phase microarrays
Speed gene expression, genotyping, serum profiling and other life science applications
Study human, mouse, rat, Drosophila, Arabidopsis, C. elegans, yeast, bacteria and viruses
Supports VIP genotyping and other diagnostics applications
Heavy duty overhead gantry offers precision, speed and durability
Arrayit patented contact printing technology (U.S. 6,101,946) provides IP protection
Arrayit printing technology installed in more than 3,800 laboratories worldwide
Printing technology based on 14 years of commercial success starting in 1997
Deck capacity of 136 standard glass substrates and 8 pre-prints (25 x 76 mm)
Printhead holds 48 microarray printing pins in a 4 x 12 pattern at 4.5 mm spacing
Professional series printhead micro-machined to ±1.3 µm (0.00005") for unsurpassed precision
Professional series printhead reduces friction by 90% for printing on membranes and gel surfaces
Deck accommodates three 384-well microplates for throughput and ease-of-use
SBT Protein Edition includes liquid cooling of entire deck from ambient to 4°C
SBTPRO enables antigen, antibody, peptide, lysate and reverse phase protein microarrays
All systems include humidity control from 10-80% relative humidity
Humidity control speed of 5% RH per minute and ±1% at steady state
Humidity control minimizes sample evaporation and ensures precise spot diameters
All systems include megasonic wash station for high efficiency pin cleaning
Printhead compatible with entire line of Stealth, 946, Green, and Professional microarray pins
Deck compatible with entire line of Arrayit substrate slides
Printed microarrays compatible with entire line of Arrayit microarray scanners
Printed microarrays compatible with entire line of Arrayit labeling and purification kits
Printed microarrays compatible with entire line of Arrayit hybridization, wash and blocking buffers
Printing routines allow up to five technical replicates per sample
Print 10,000 samples onto 144 substrate slides in less than 24 hours
Print up to 250,000 samples onto each 25 x 76 mm substrate slide
Systems utilize the latest Windows 7 operating system
All systems include Arrayit BioBlue Bioinformatics Computer
All systems include LED flat panel display, keyboard, mouse and mouse pad
Systems are compatible with all standard 120-volt and 220 volt outlets
Intuitive graphical user interface and design wizard makes programming fast and easy
Robot size (L x D x H): 114 x 76 x 31 cm (45 x 30 x 12")
Robot weight excluding accessories: 36 Kg (80 lbs)
Private label and OEM agreements available for volume purchases
World's finest and most affordable high-capacity microarrayers
Compatible with class 1 cleanrooms for cleanroom manufacturing applications
Arrayit cleanroom gloves, wipes, cleansuits, and particle counters highly recommended
Platen liquid cooling maximizes cooling uniformity, speed and efficiency
Advanced robotics ensure performance and reliability
Forced air stream pin drying enhances pin cleaning and sample loading
Moderate buffer consumption of less than 3 liters per hour
Minimal air turbulance and humidity control greatly minimizes sample evaporation
Instrument and accessory vibration dampeners permit printing in virtually any laboratory setting
SBT systems arrive pre-calibrated and ready to use
Customer installation time of 2.5 hours
All installations include comprehensive technical support by Arrayit staff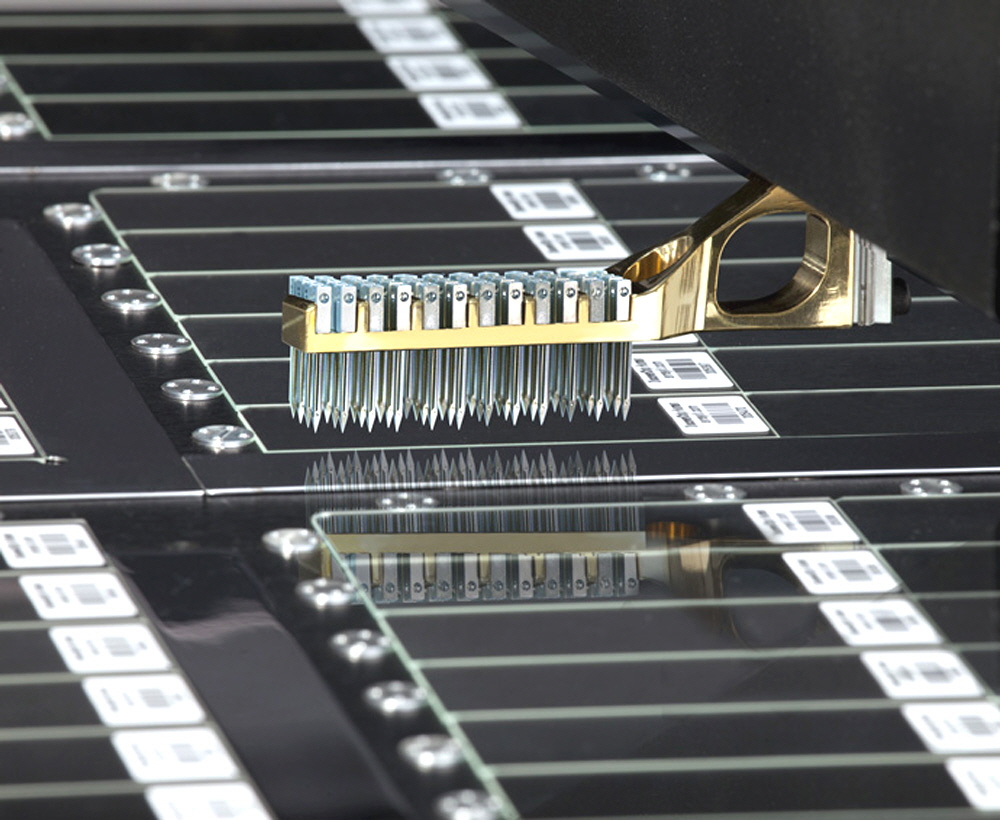 Figure 1. SpotBot® Titan High-Capacity Microarrayers enable high-throughput microarray manufacturing using advanced motion control, space age alloys, 48 microarray printing pins, professional series printhead, 144 glass substrate slides for the market's most economical solution to microarray printing.
Top