NanoPrint™ 2 LM60-2 and LM210-2
Data Sheet


Shop this product in our online store
Products - Microarrayers - NanoPrint™ 2 LM60-2 and LM210-2 Enterprise Level High-Capacity Fully Automated Manufacturing Workstations
This section contains a wealth of information, related to
our website
and our
online store
. If you cannot find an answer to your question, make sure to
contact us
.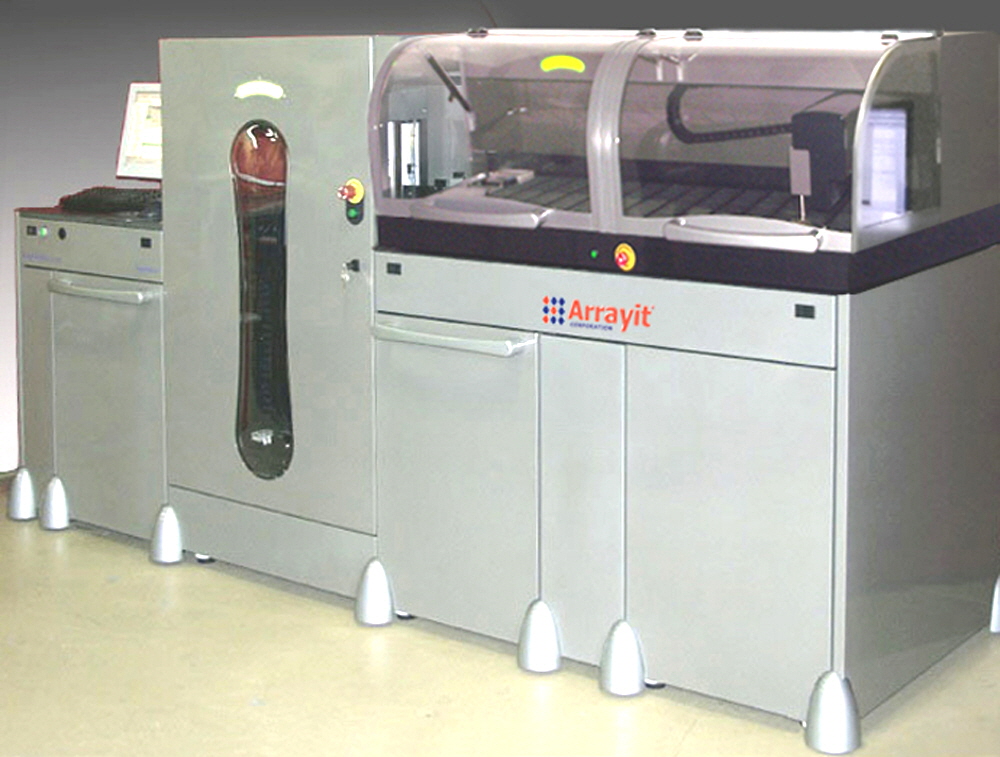 Ultra-high throughput microarray printing can be accomplished by adding a Worktable Workstation to your NanoPrint™ 2 LM60 and LM210 and NanoPrint™ 2 Protein LM60 and LM210 microarrayers. The Worktable Workstation integrates easily into NanoPrint™ systems and mediates conveyor-based movement of worktables in and out of the robot. With a 60 worktable capacity, the Worktable Workstation the fully automated manufacture of 1800 glass substrate slide microarrays.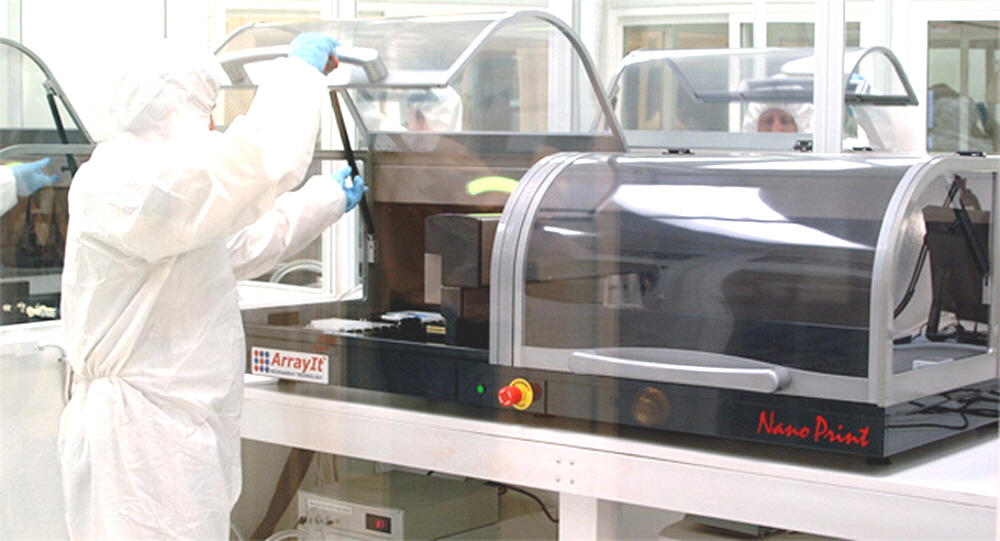 Figure 1. Shown is the NanoPrint™ 2 LM210 microarrayer in a class 1 ArrayIt® cleanroom. The Worktable Workstation integrates directly into this system for ultra-high throughput microarray manufacturing.
Worktable Workstation features:
The Worktable Workstation is high speed, bi-directional, modular transportation system designed for the movement of 20 worktables containing glass substrate slides, 96-well microplates or proprietary printing cassettes and cartridges. The 96-well microplate worktables each hold 9 flat-bottom 96-well microplates for a total of 180 microplates per Workstation. Users of this system are empowered to print >17,000 microarrays with 1,000 features in a completely automated manner.
The Worktable Workstation provides a unique solution for ultra-high throughput microarray printing onto glass substrate slides, 96-well microplates and other printing surfaces. The system uses a modular approach based on reliable and heavy-duty industrial components and electronics. Its unique design provides unparalleled speed and proven reliability by eliminating the traditional "gripper system" used for microplate handling.
Removable storage storage modules store the worktables and can be used interchangeably between multiple systems. For microplate printing, the standard worktables hold 9 SBS standard microplates, however custom layouts required for specific applications can be delivered.
Microplate Handling Features
Unparalleled speed and reliability
Conveyor-based technology
Supports third party liquid handlers
Any combination of samples
Modular and scalable
Precise positional repeatability
No modification required of NanoPrint™ LM60 and LM210 systems
Worktables are moved in and out of the NanoPrint™ 2 LM60 and LM210 systems by means of a conveyor-based mechanism that provides precision and repeatability. Arrayit Microarray Workstations are designed for the most exacting high-throughput manufacturing applications that require fully automated printing onto glass substrate slides, microplates and custom microfluidic devices.
Microplate Handling Specifications

Microplate Hardware Specifications

Worktable Dimensions

33.7 x 43.2 mm (13 1/4" x 17")

Cassette Matrix

3 x 3 SBS standard

Microplate Orientation

Landscape

Retrieval Time to/from processing device

12 seconds per worktable or 1.3 seconds per microplate

Degrees of Freedom

2

Exterior reach (X-Axis envelope)

175 mm (6.9")

Model 180 (Z-Axis envelope)

800 mm (31.5")

Model 450 (Z-Axis envelope)

1350 mm (53.1")

Maximum Speed

900 mm/s (35.4 in/s)

Maximum Payload

4 kg (8.8 lbs)

Repeatability

+/- 0.10um

Positional Accuracy

10 micron

Motion Control

DC Servo

Operation Temperature

0-45ºC
Mobile Storage Units

Description

Maximum Storage Capacity

Mobile Storage 180

20 worktables (180 microplates w/lids or 90 deepwell microplates) at 25 mm spacing
Top