Microfluidic Controllers
Data Sheet


Shop this product in our online store
Arrayit | Microarray FlowTest programmable microfluidic controllers automated programmable CosDesigner software life sciences research
This section contains a wealth of information, related to
our website
and our
online store
. If you cannot find an answer to your question, make sure to
contact us
.
Instruments - Microarray Processing - FlowTest™ Programmable Microfluidic Controller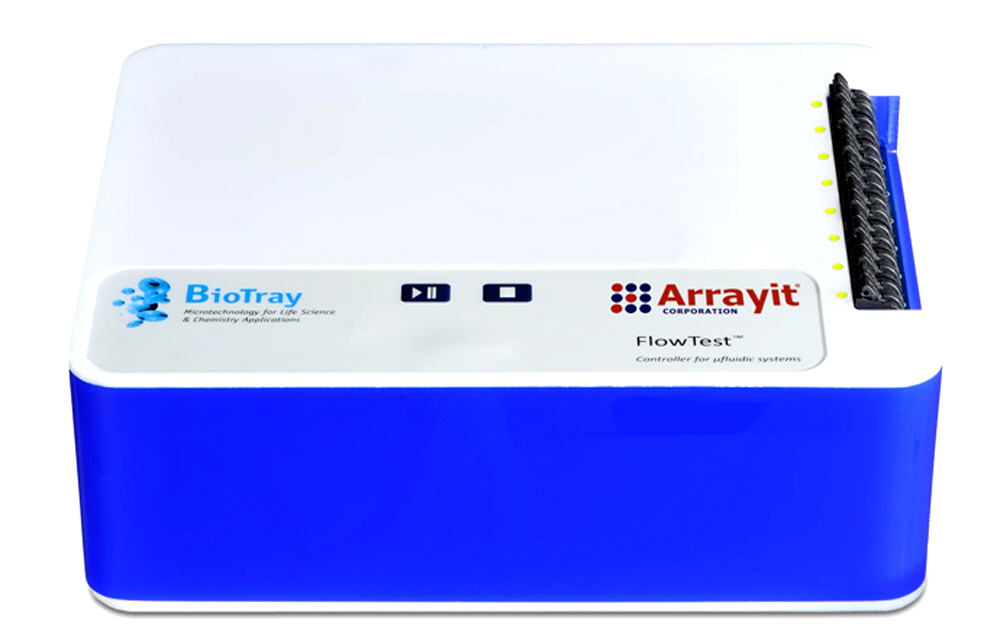 Arrayit FlowTest™ Microfluidic Controllers are fully automated and programmable controllers that operate up to eight fluidic or microfluidic control components.  FlowTest™ is adaptable for use with pumps and valves that are actuated with 12 or 24 volts including Lee, Takasago, Burkert, Bio-Chem Fluidics and other solenoid valve and pump manufacturers. These components can be run in parallel or independent of one another. Programming is carried out on a computer, using the dedicated CosDesigner™ software. This programming tool is ideal for the development of new procedures that require liquid displacement, sampling, and injection. Multiple programs can be set up, stored and managed and users can effortlessly retrieve and run their programs. FlowTest™ field of use spans laboratory and industrial applications requiring precise liquid transfers and will prove an invaluable asset in many quality testing applications.
FlowTest™ can also operate as a stand-alone instrument without a computer.  In this case, programs are loaded with the help of a USB key, and the controller is then operated by a "run" and a "stop" button conveniently located on top of the control box.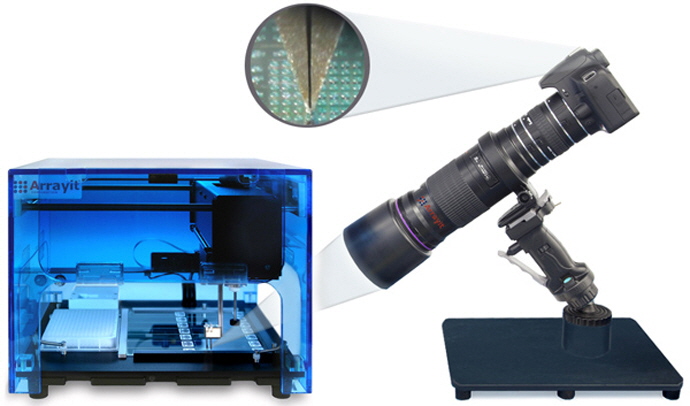 Figure 1. Arrayit FlowTest™ Microfluidic Controller front view with top panel illumination when powered on.
Bring your ideas to life. Our FlowTest™ controller quickly permits you to design and run your experiments. By controlling up to eight valves and pumps (12 or 24 Volt), a wide variety of fluidic and microfluidic operations can be performed.
Simple and user friendly. The graphic user interface of the CosDesigner™ software is straightforward and intuitive. The biologist, chemist, laboratory technician, quality control technician or other user can efficiently program the controller without having to learn complicated programming languages.  Programming is accomplished in two easy steps:
Design your fluidic flow diagram in a graphic window using a library of valve and pump components.
Set the parameters (open and closing times, amount of fluid, interrupts) and launch the program.
Efficient and reliable. Improve your productivity with the FlowTest™ controller.  CosDesigner™ allows the user to monitor several precisely timed fluidic flow operations simultaneously. Wide programming parameters allow the controller to run complex sequences for extended periods of time.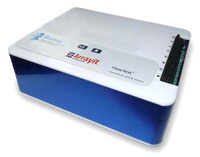 Figure 2. Arrayit FlowTest™ Microfluidic Controller side view with 8 fluid control device (FCD) connection ports for 12 or 24 volt device operation.
Technical specifications
| | |
| --- | --- |
| Dimensions | 22.5 cm x 18.0 cm x 8.5 cm  /  9 x 7 x 3.5 inches |
| Weight | 1.5 kg / 3.4 lbs |
| Capacity | Up to 8 fluid control devices (FCDs) running in parallel |
| Output voltage | 12 V or 24 V |
| External trigger | 4 interrupt requests or IRQs (0-5V TTL, dry contact) permitting the start or stop of FCD operation. IRQ inputs through female CINCH/AV connectors. FCD connection: Spring-loaded terminal blocks with bi-color LEDs indicating state of actuation. |
| USB-A port | Designated for USB key for loading programs into controller. |
| USB-B port | Designated for PC or laptop connection. Contact us for drivers. |
| Input voltage | 110-120 V, 60 Hz / 220-240 V, 50 Hz. Power cables with U.S. and European plugs are supplied with the controller. Programming: CosDesigner™ tool can be run on Windows Vista and Windows XP operating systems in either 32-bit or 64-bit versions. |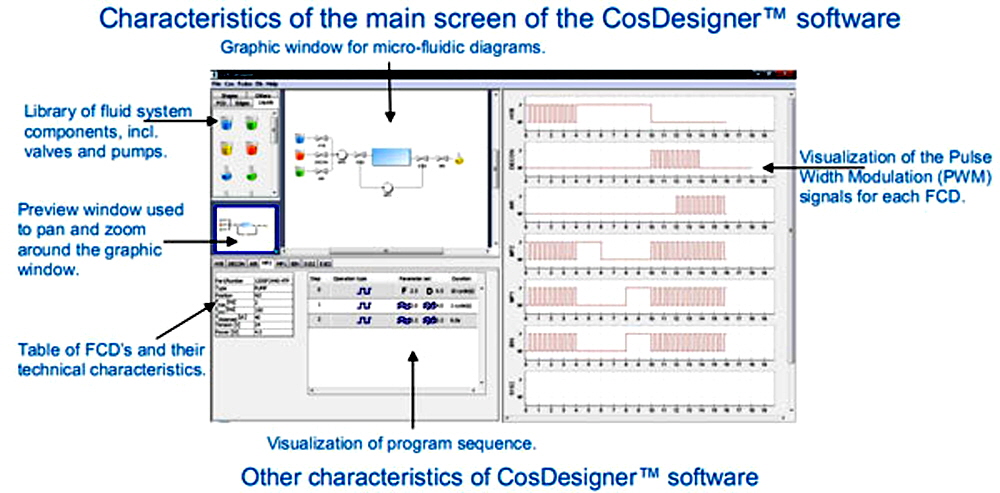 Figure 3. Arrayit FlowTest™ Microfluidic Controller main graphical screen of the FlowTest™ CosDesigner™ Sofware.
Import/Export of FCDs in comma-separated-value format.
Graphic user interface for ease in programming.
Display of valve and pump part numbers and technical characteristics.
Library of fluidics system components: fluid containers, valves, pumps, sensors, etc.
"Drag and Drop" system.  Ability to move components from the library into the graphic window diagram.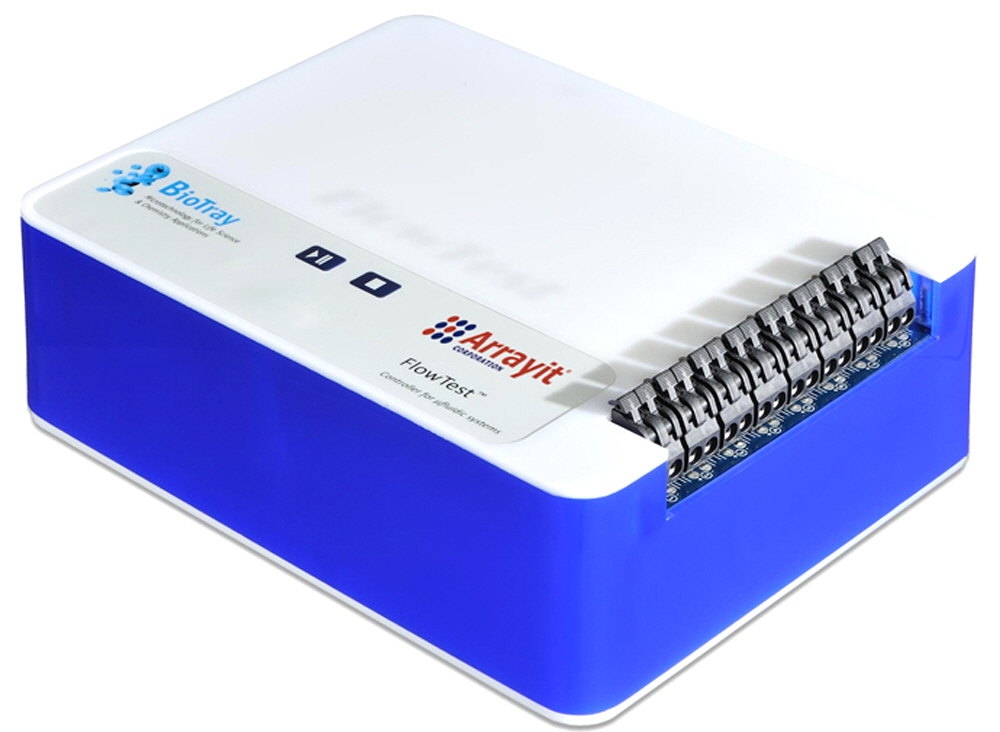 Figure 4. Arrayit FlowTest™ Microfluidic Controller side view with 8 fluid control device (FCD) connection ports for 12 or 24 volt device operation.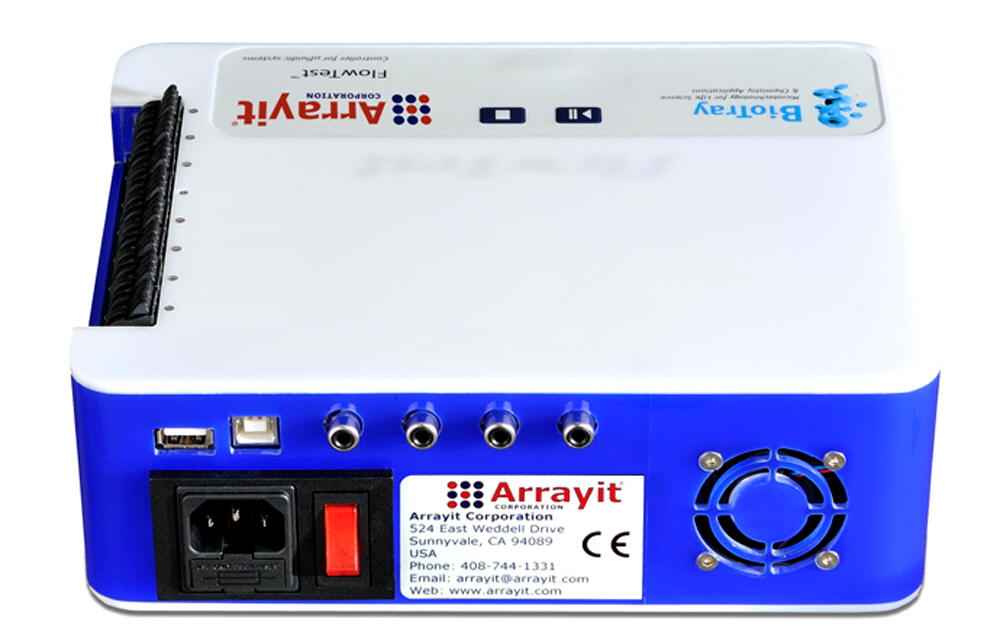 Figure 5. Arrayit FlowTest™ Microfluidic Controller rear-view with USB port for instrument dongle, USB port for computer connection, 4 IRQs, power cord connection, power switch and cooling fan.
Top
Worldwide Distribution