Microarray Biochip
Data Sheet


Shop this product in our online store
Arrayit | Microarray Biochip Technology book Dr Mark Schena Eaton Publishing life sciences research
This section contains a wealth of information, related to
our website
and our
online store
. If you cannot find an answer to your question, make sure to
contact us
.
Tools - Microarray Books - Microarray Biochip Technology Overview Compendium Edited by Arrayit President and Microarray Pioneer Dr. Mark Schena
Microarray Biochip Technology
Edited by Mark Schena,Ph.D. Published by Eaton Publishing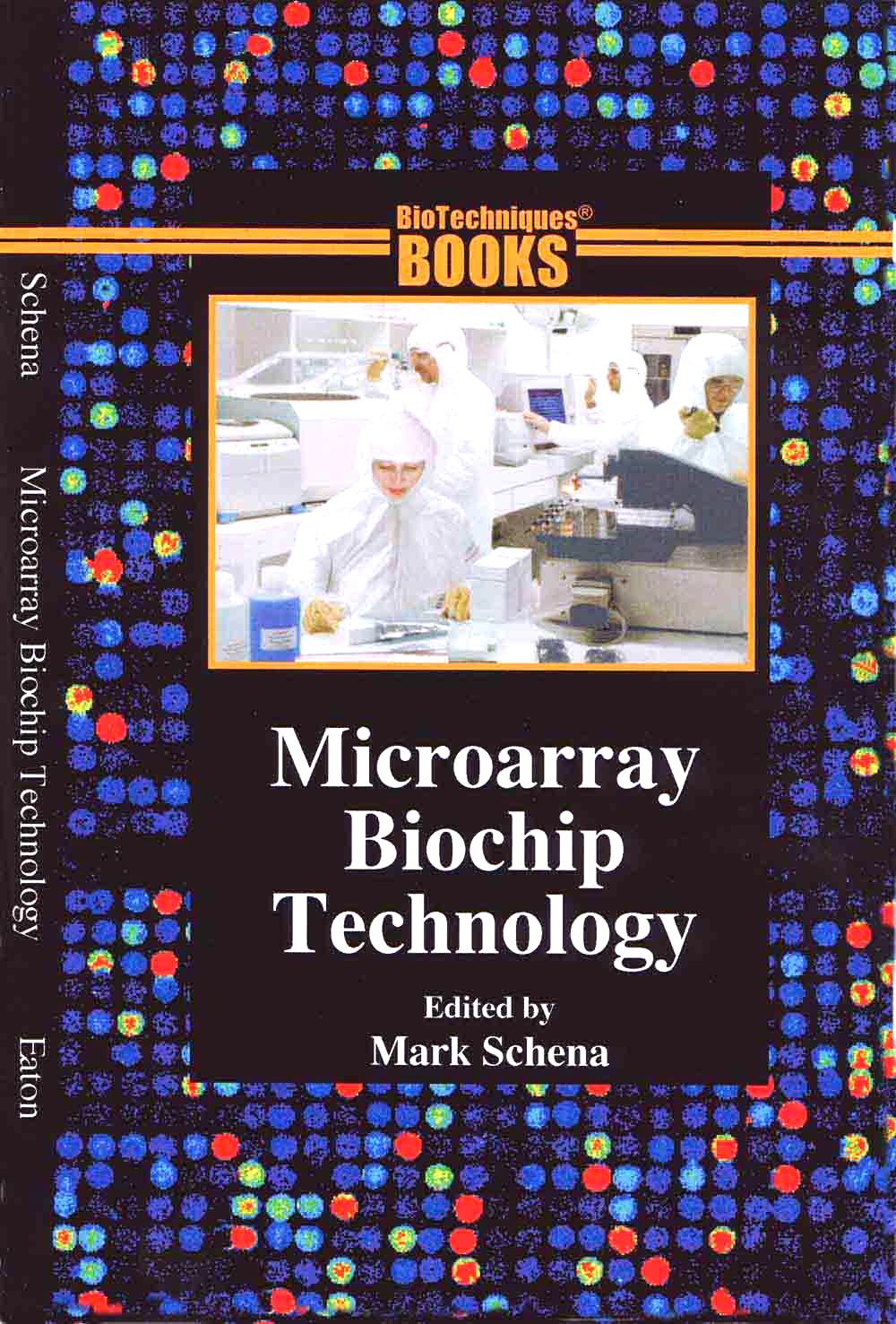 Learn how this exciting, new field will transform the myriad fields of biomedical and agricutural research
The perfect companion piece to DNA Microarrays: A Practical Approach.
TABLE OF CONTENTS
Chapter 1. Technology Standards for Microarray Research
Mark Schena and Ronald W. Davis
Chapter 2. Microfluidic Technologies and Instrumentation for Printing DNA Microarrays
Don Rose
Chapter 3. Novel Microarray Printing and Detection Technologies
Myles L. Mace, Jr., Jean Montagu, Stanley D. Rose, and Greg McGuinness
Chapter 4. A Systems Approach to Fabricating and Analyzing DNA Microarrays
Jennifer Worley, Kate Bechtol, Sharron Penn, David Roach, David Hanzel, Mary Trounstine, and David Barker
Chapter 5. The Flow-Thru ChipTM:  A Three-Dimensional Biochip Platform
Adam Steel, Matt Torres, John Hartwell, Yong-Yi Yu, Nan Tring, Glenn Hoke, and Hongjun Yang
Chapter 6. Large-Scale Genomic Analysis Using Affymetrix GeneChipR Probe Arrays
Janet A. Warrington, Suzanne Dee, and Mark Trulson
Chapter 7. Technology and Applications of Gene Expression Microarrays
Elisabeth Evertsz, Pascual Starink, Robert Gupta, and Drew Watson
Chapter 8. Information Processing Issues and Solutions Associated with Microarray Technology
Yi-Xiong Zhou, Peter Kalocsai, Jing-Ying Chen, and Soheil Shams
Chapter 9. Microarray Tools, Kits, Reagents, and Services
Todd Martinsky and Paul Haje.
Chapter 10.  MICROMAXTM:  A Highly Sensitive System for Differential Gene Expression on Microarrays
Karl Adler, Jeffrey Broadbent, Russell Garlick, Richard Joseph, Anis Khimani, Alvydas Mikulskis, Peter Rapiejko, and Jeffrey Killian
Chapter 11.  Production of Microarrays on Porous Substrates Using Noncontact Piezoelectric Dispensing
David Englert
Chapter 12.  Arrayed Primer Extension on the DNA Chip: Method and Applications
Neeme Tonisson, Ants Kurg, Elin Lohmussaar, and Andres Metspalu
Chapter 13.  Overview of a Microarray Scanner: Design Essentials for an Integrated Acquisition and Analysis Platform
Trent Basarsky, Damian Verdnik, Jack Ye Zhai, and David Wellis.
Top
Worldwide Distribution