Comparative Genomic Hybridization (CGH) Microarrays
Data Sheet


Shop this product in our online store
Comparative Genomic Hybridization (CGH) Microarrays for Karyotyping, In Vitro Fertilization (IVF) and Preimplantation Genetic Diagnosis (PGD)
This section contains a wealth of information, related to
our website
and our
online store
. If you cannot find an answer to your question, make sure to
contact us
.

Arrayit Comparative Genomic Hybridization (CGH) Platforms set a new standard in CGH analysis, featuring precision, affordability and high-throughput in platforms that are easy to install and implement. Arrayit platforms utilize long-mer oligonucleotide microarrays, two-color fluorescent labeling and scanning, and the market's most advanced single cell amplification kits to enable medical research focused on karyotyping, in vitro fertilization (IVF), preimplantation genetic diagnosis (PGD) and other applications. Platforms include all of the instruments, tools, kits and reagents to perform CGH analysis in your clinical or basic research laboratory.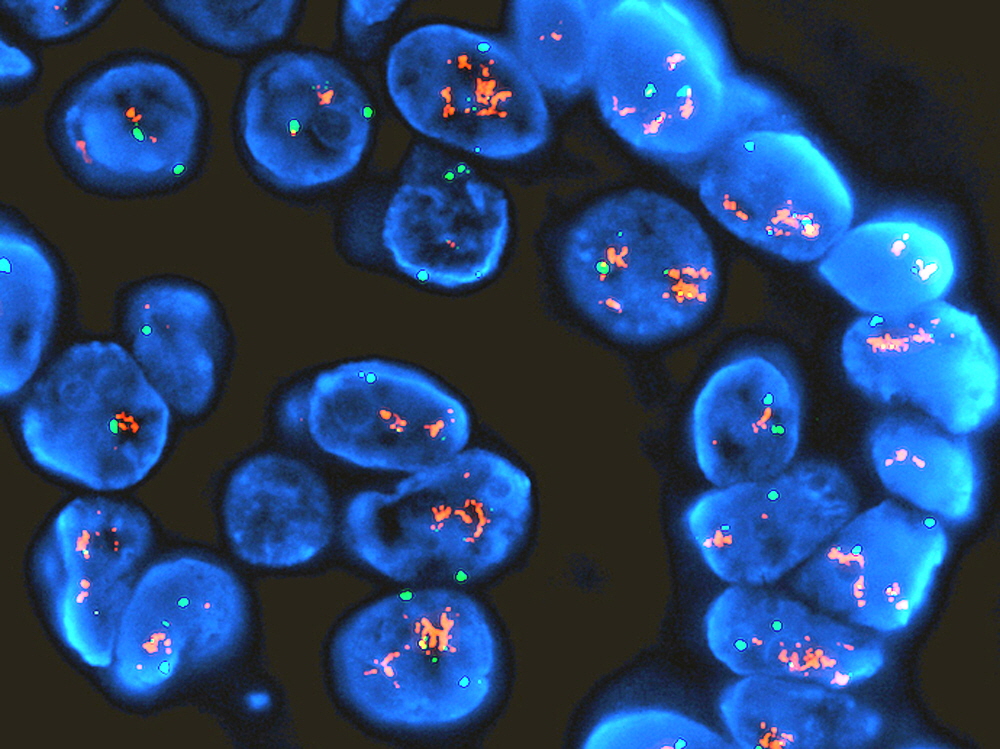 Figure 1. Arrayit Comparative Genomic Hybridization (CGH) Platforms accelerate human cell karyotyping for cytogenetic studies.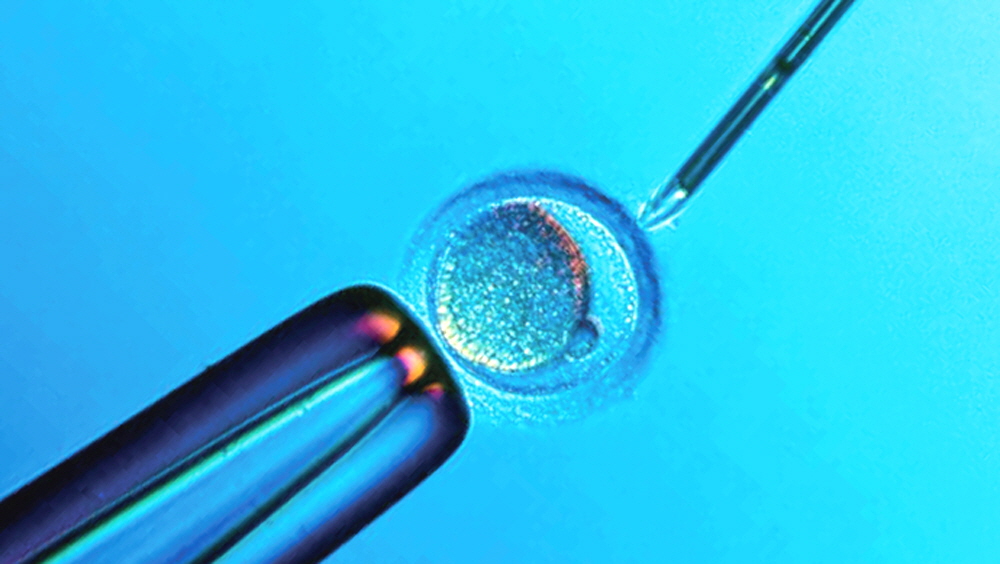 Figure 2. Arrayit Comparative Genomic Hybridization (CGH) Platforms enable the analysis of single human cells for research applications that include in vitro fertilization (IVF).
Custom CGH Platforms
Additional Arrayit products can be used to implement CGH analysis. These items can be ordered separately to create your own custom CGH platform.
NanoPrint Microarrayer
High throughput linear drive motion control based microarrayer capable of more than 48 spots per second, and 50,000 spots per microarray. This instrument sets the standard for CGH microarray manufacturing applications regardless of the sample type.
SpotBot® 2 Microarrayer
Low throughput microarrayer excellent for personal CGH microarray manufacturing.
Innoscan Series Microarray Scanners
High speed and high resolution 2-color systems to meet any CGH application and microarray type.
SpotLight Microarray Scanner
The architecture of this 10-micron resolution, 2-color system increases signal to noise ratios in CGH microarray scans by 7X over some traditional microarray scanning architectures.
946 and Stealth Micro Spotting Devices
These are the most widely used microarray technologies in the world, with many thousands of installations world wide on various robotic systems.  It is used to manufacture CGH microarrays of BACs, cDNAs or oligos.  It is compatible with all the various microarray surface chemistries deployed in CGH microarray applications.
Microarray surface chemistries
Depending on the sample type and preparation protocol, ArrayIt® has a surface chemistry to meet the needs of all CGH microarray applications.  BACs, cDNAs, oligos, DOP-PCR, Linker-mediated PCR-amplified generated samples and many other types are compatible. Tell us your sample type and we can recommend the right surface chemistry.
Hybridization Cassettes
This simple, yet high performance hand operated tool delivers consistent hybridization results at very low cost.  Durable and lasting performance for many years is guaranteed.
TrayMix 2 Automated Hybridization Stations
Removes potential errors that can occur from manual processing.  This tool can also process traditional cytogenetic tests performed on slides.
High Throughput Wash Station
Simple and inexpensive tool to get stunning microarray results.
Microarray Centrifuge
This tool provides quick and efficient drying of CGH microarrays prior to scanning.
Purification Kits
Cleaner samples in microarray applications provide superior results.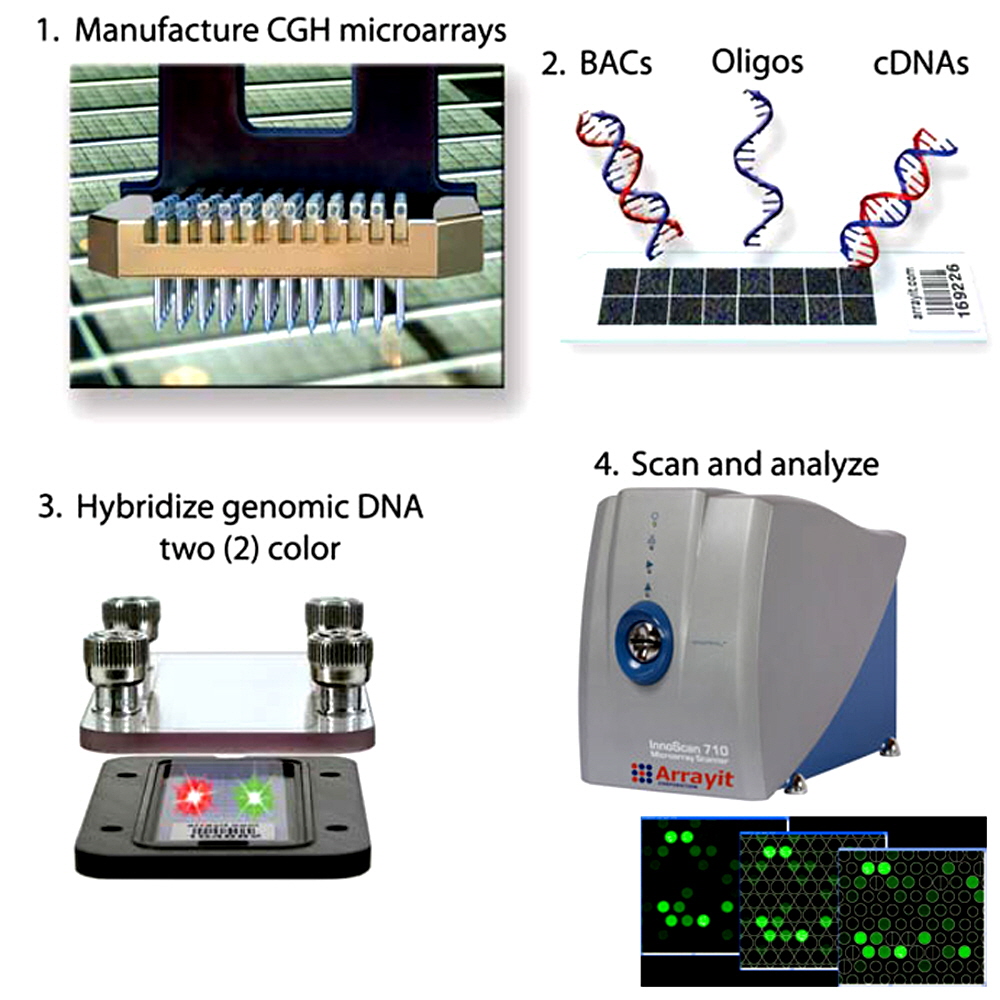 Figure 3. Arrayit Comparative Genomic Hybridization (CGH) Platforms utilize a four-step process that includes (1) CGH microarray manufacturing (performed by Arrayit), (2) CGH microarray analysis, (3) competitive two-color genomic hybridization, and (4) fluorescence scanning and data analysis.
Technical Assistance
Please contact us if you have any comments, suggestions, or if you need technical assistance. By electronic mail: arrayit@arrayit.com (under the subject heading, please type ArrayIt technical assistance). By telephone: (408) 744-1331, Monday-Friday PST 8:30am - 5:30 PM. Please remember that we want to hear about your successes!
Scientific Publications
Click here and here for recent scientific publications using ArrayIt® brand products from Arrayit International, Inc. for comparative genomic hybridization (CGH).
Top