rrayit InnoScan® 700 Series Two-Color High-Speec Microarray Fluorescence Scanners
Data Sheet


Shop this product in our online store
Arrayit offers the world's only next generation microarray scanning technology, with proprietary rotary motion control, dynamic auto-focusing, 2-color fluorescence detection, 3 µm scan resolution, 3 minute scan times and complete software.
This section contains a wealth of information, related to
our website
and our
online store
. If you cannot find an answer to your question, make sure to
contact us
.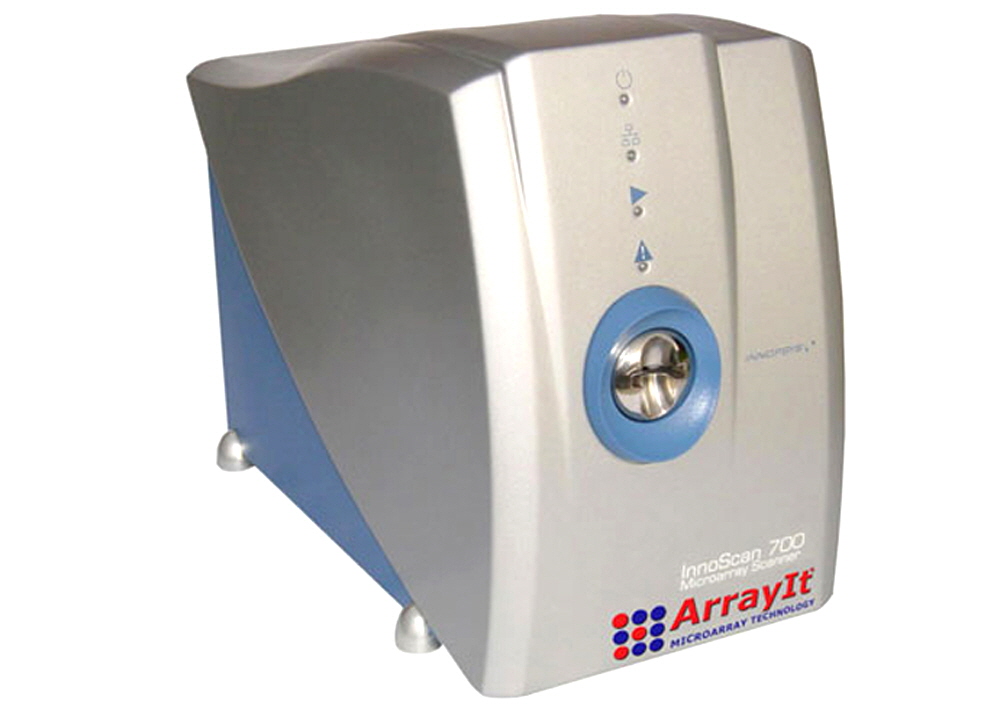 Arrayit offers the world's only next generation microarray scanning technology, with proprietary rotary motion control, dynamic auto-focusing, 2-color fluorescence detection, 3 µm scan resolution, 3 minute scan times and complete software.
Product description
Next generation microarray scanning technology.
Fastest and most compact microarray scanners available.
Proprietary rotary scanning architecture permits the fastest scanning speeds.
3 minutes to scan an entire 25 x 76 mm substrate slide.
Scan 24 substrate slides in 100 minutes using the 700AL.
Adjusable scan resolution from 3 µm to 40 µm.
Ideal for both in situ and ex situ microarrays.
Rotary scanning architecture reduces vibrational noise and increases image quality.
Much greater reliability and longevity than conventional raster scanners.
High resolution acquisition system: scans spot sizes down to 5 µm diameter.
Real-time image acquisition for all microarray types including but not limited to in-situ high density glass slide microarrays, spotted microarrays of all kinds, tissue and cell microarrays.
Low background noise and high sensitivity system.
Uniform scanning across the entire microarray surface regardless of substrate type (glass, membrane and plastic).
Not sensitive to shocks, vibrations and slide deformation (portable).
Delivered with Mapix® software: an easy to use data acquisition and image analysis software including automatic spot recognition and powerful image analysis71 974
Software for various OS environments (Linux, Windows ).
Ethernet interface allows easy data sharing (scanner can be shared over network by several users).
Affordable price, low maintenance.
Lightweight, robust structure makes it portable system.
Small footprint for laboratory space saving.
Weight: 10 kg.
Image acquisition and quantification demo available upon request, email us at arrayit@arrayit.com.
Specifications

Lasers

Thermoelectrically cooled laser diodes with stabilized feedback output

Excitation wavelengths

635 nm and 532 nm (700A and 700AL models)
635 nm (700R model)
532 nm (700G model)
Custom wavelengths are possibe, please contact us with your requirements

Laser power

Adjustable (2 laser power settings available)

Autofocus

Real-time and automated

Detection

True confocal and high performances digital laser/PMT system

Optical resolution

2.4 µm

Pixel size

3 µm to 40 µm

Scanning time

3.5 min per 22 x 70 mm substrate at 10 µm resolution

Autoloader capacity

24 standard 25 x 76 mm glass substrate slides

Autoloader speed

5 seconds load/unload per substrate slide

Autoloader throughput

100 min for 24 substrate slides

Scan area

Full substrate slide area (22 x 70 mm)

Image format

Standard TIFF (16 bit gray scale)

Barcode reader

All formats

Power supply

88 - 264 VAC

Size (L x D x H)

25 x 45 x 35 cm (models 700A, 700R and 700G)
33 x 60 x 42 cm (model 700AL)

Weight

12 Kg (models 700A, 700R and 700G)
12 Kg (models 700A, 700R and 700G)

Class

Class I laser product

Sensitivity

0.1 fluor/µm²

Dynamic range

>10,000-fold

Uniformity

<5% CV

Format

Open platform glass substrate slides (25 x 76 mm)

Computer interface

Ethernet

Image analysis

Highly accurate grid positioning using automatic spot recognition provide accurate quantification and 16-bit exportable TIFF data

Compatible fluorophores:

Cy5, Alexa 647, Alexa 660 (635 nm); Cy3, Alexa 546, Alexa 555 (532 nm); and custom wavelengths available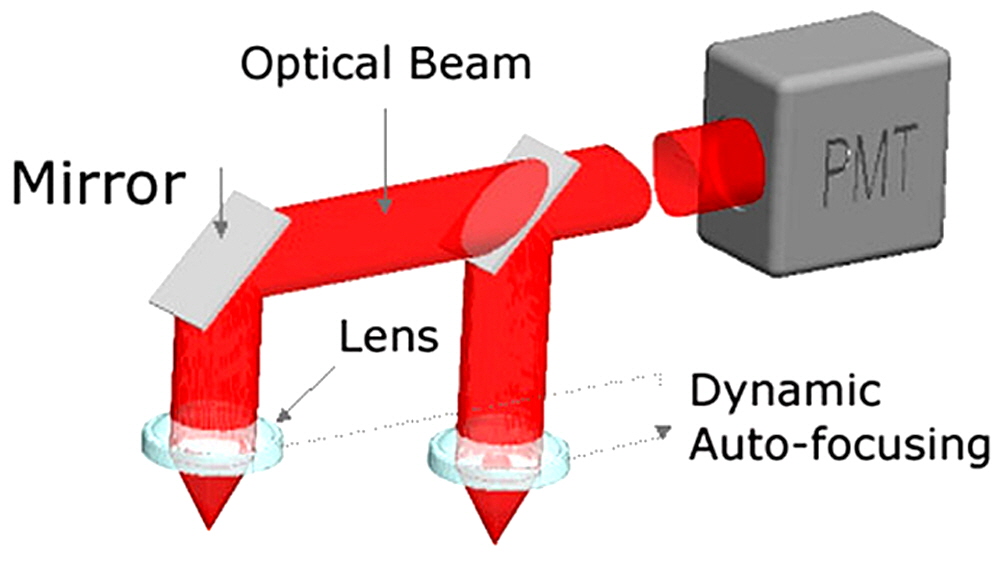 Figure 1. The ArrayIt® InnoScan® 700 microarray scanner uses dynamic auto focusing, which greatly reduces background noise and increases signal intensities. This proprietary auto-focusing technology allows the system to adjust to temperature changes, mechanical perturbations and other system changes that would otherwise cause fluctuations in signal and background. The result is highly uniform scanning across the entire chip surface and consistent performance scan after scan.
Quantitation and analysis software is included with every scanner:
Mapix® is a microarray image analysis software application that is both intuitive and easy to use, combining imaging and analysis tools for superior performance.
Highly efficient algorithms provide rapid and effective feature gridding through automatic spot searching and optimal grid alignment.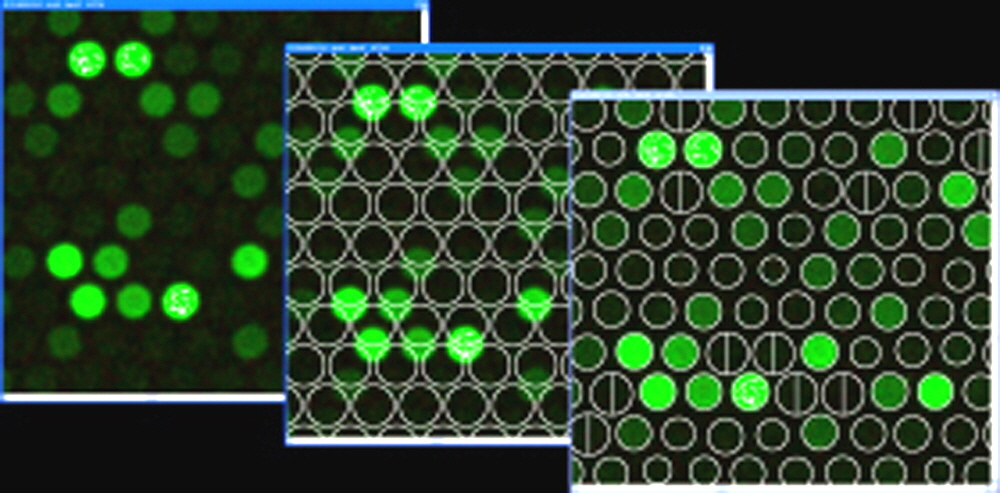 Automatic spot segmentation ensures high-quality experiment data by selecting relevant pixels and eliminating unwanted ones.
Gridding performance and quantification process are adapted to the high resolution of the InnoScan700 (3m) and therefore to the size of images generated.
Optimal data visualization and quick learning thanks to its highly interactive commands, with full correlation between displayed data, pictures and plots.
Compatible all types of microarrays made by ex-situ and in-situ techniques.
Reads and analyzes interstitial/staggered/orange packing patterned microarrays made by the Protein NanoPrint, Agilent and others.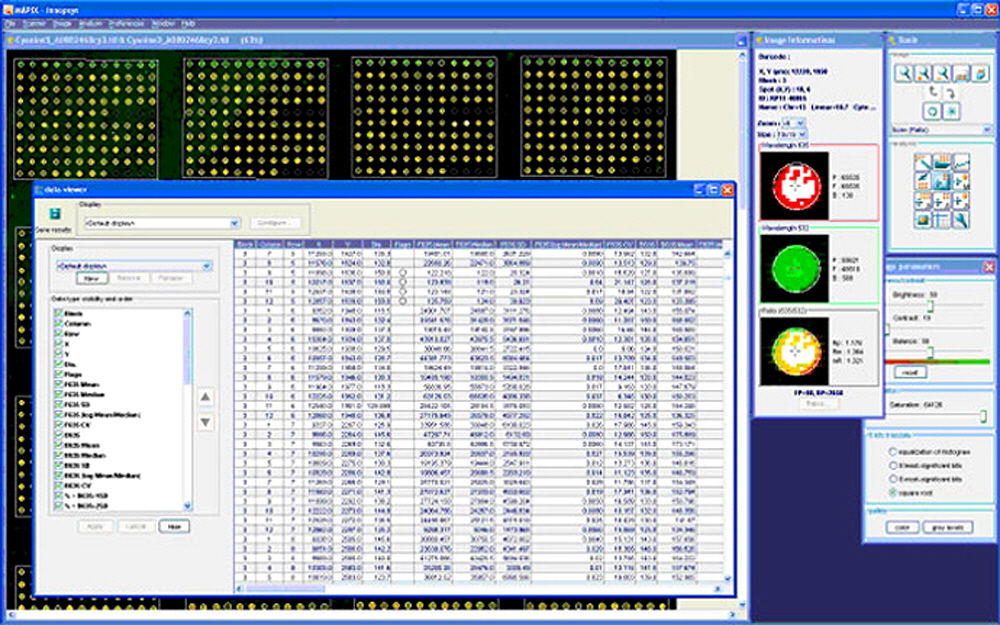 Batch processing allows analysis of a large number of microarrays per day to boost productivity (available on Version 3.0.0).
Regular software updates are accessible on line to match evolving needs of customers (updates are free for the 1st year).
Configurable for full or modular automation of:
Scanner control
Configuration saving (scan and analysis parameters)
Bar code reading
Quality control by flagging
Compatible with all industry-standard formats and platforms:
Support GAL files and recordable transcripts in both text and GPR formats.
Images are saved as 16-bit TIFF images with all read parameters and can be copied in JPEG format.
Supports image analysis of 16-bit TIFF files from a variety of other scanners.
Platform-independent and runs on all operating systems (Windows, 32- and 64-bit Linux and Macintosh).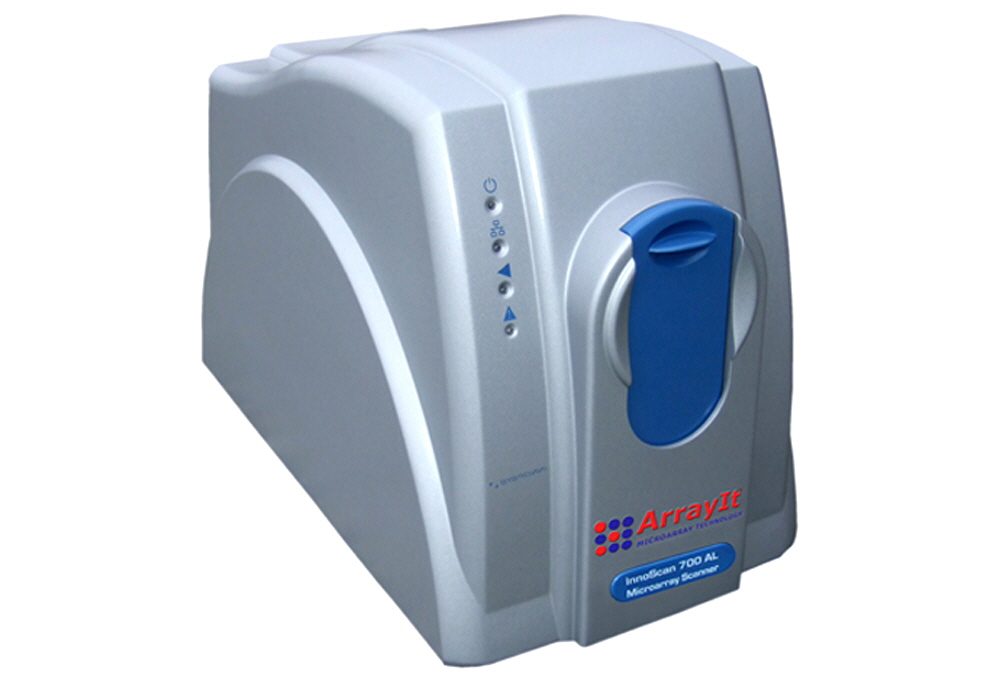 Figure 2. The ArrayIt® InnoScan® 700AL laser microarray scannerwith autoloader provides high resolution, high-speed fluorescence scanning of all standard glass microarrays. The 700AL scans 24 glass substrate slides (25 x 76 mm) in both channels at 10 µm resolution in 100 minutes. The ArrayIt® InnoScan® 700AL laser microarray scanner is the perfect automated solution to high-throughput microarray scanning for research and diagnostics.
Top